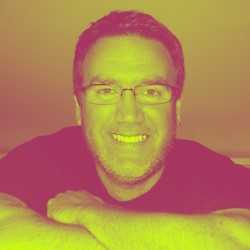 Scott Gericke is an Assistant Teaching Professor in the Department of Art & Design within the College of Arts & Sciences. He studied graphic design at Missouri State University as an undergraduate and the University of Illinois at Urbana-Champaign, receiving his MFA in 1988. He's taught numerous courses in Communications Design at Washington University's Sam Fox School of Design & Visual Arts for several years. Along with leading his own design consultancy, Scott has held director positions at New Honor Society, Momentum Worldwide, designlab,inc, XPLANE, Kiku Obata & Company and Falk Harrison Creative - all in St. Louis.
Scott is responsible for teaching Graphic Design courses focused on creative processes, design principles, and professional practicum. He has a strong background in brand identity and systems design and counts Companion Bakery, Ameren Corporation, Caleres, Laumeier Sculpture Park, Washington University in St. Louis, Monsanto, Missouri Baptist Medical Center, St. Louis Children's Hospital, Coca-Cola, Subway International, and UPS as clients and collaborators.
He has won numerous design awards from AIGA, Ad Club of St. Louis, Association of Business Communicators, Mohawk Paper, Mead Paper, Annual Report 100, and Printing Industries of America; published work in Sign Business magazine, American Corporate Identity, Big Book of Logos, Big Book of Corporate Identity Design, Communication Arts, and numerous Logo Lounge volumes; and featured on commarts.com, underconsideration.com and thestlouisegotist.com.
He is a founding member of AIGA/The Association for Design St. Louis Chapter, former president, board member, and Advisory board member, and was honored with the prestigious Design Fellow Award in 2008.
Contact Information:
gerickes@umsl.edu
(314) 516-6610
Office: Fine Arts Building 212
Office Hours: Tuesday and Thursday, 3:00-3:30 PM
American Institute of Graphic Arts (IAGA) Profile