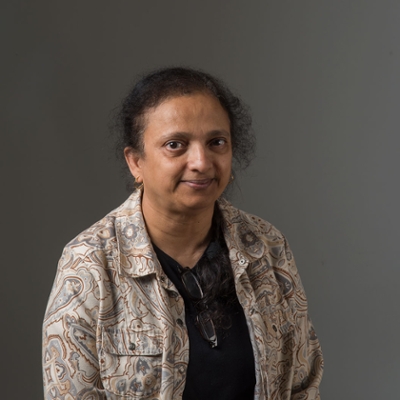 Anu Vedagiri is an Assistant Professional Practices Professor/Visual Resources Curator in the Department of Art and Art History. In her current position as the Visual Resources Curator, Vedagiri supports the application and implementation of technology to scholarly and educational issues in the department.  She trains and supervises student assistants on all aspects of digital asset management and instructs faculty on the use of the department's image database.  
Since 1995 Vedagiri has been continually involved in issues surrounding the use of digital image information and its impact on the educational community.  In 1996 she was appointed Digital Imaging and Design Associate for The Huntington Photographic Archive of Buddhist and Related Art at The Ohio State University, to work with a team of designers and educators in generating interfaces for virtual re-creation and study of 13 sites in India, China, Japan, and Nepal.  During 2001-2004, she worked as the Image Editor for the NEH (National Endowment for Humanities) and as Image Content Editor for the Mellon ARTstor, grants awarded to The Huntington Archive. 
In addition to her archival experience, Professor Vedagiri has a wide-ranging background in Asian Art History. She received her Ph.D. in South Asian/Indian Art History from The Ohio State University in 2004.
Related Links
Visual Resource Library
Contact Information
Anu Vedagiri
Assistant Professional Practices Professor/
Visual Resources Curator
Department of Art and Art History
587 Lucas Hall
One University Boulevard
University of Missouri-St. Louis
St. Louis, Missouri 63121
Ph: 314-516-6756
vedagiria@umsl.edu